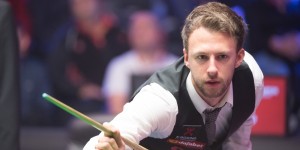 Final
Judd Trump 6-1 Mark Selby
67-53 (Selby 53), 77-42 (Trump 42, Selby 36), 1-86 (38), 75-0 (38, 37), 108-0 (68, 40), 88-0 (70), 123-12 (119)
Semi-Finals
Mark Selby 4-1 Steve Davis
66-8 (47), 41-64 (Davis 31, 32), 73-16 (68), 105-0 (32, 48), 64-53 (Selby 64, Davis 53)
Judd Trump 4-1 Stephen Maguire
82-0 (82), 106-0 (106), 103-6 (37, 66), 63-65 (Trump 55, Maguire 40), 101-0 (89)
WORLD NO.11 Judd Trump looks to be back to his scintillating best as he put in a couple of dazzling performances at the Dafabet Champion of Champions to win Group 2 at a canter. The Romford-based potter now moves forward to the weekend's semi-finals where he will feel his has every chance of lifting the title.
After coasting past an out of sorts Stephen Maguire 4-1 in his opening match, he then faced World No.1 Mark Selby who had earlier beaten Steve Davis by a similar score. Trump though continued from where he left off in the afternoon and was two-nil to the good after 30 minutes of the match.
Selby took the third frame but the Bristolian hit back with breaks of 38 and 37 in the fourth to restore his two frame advantage. A 68 break in the next did the damage before runs of 70 and finally a 119 closed out the match and set up a semi-final clash with the winner of Friday's Group 4.
"I am really pleased with how I played and I know Mark didn't play his best but I put him under a lot of pressure from the start and he missed a few," said a delighted Trump.
"Friday's group could go any way but Ricky Walden is the form player there. Neil has been struggling a little bit apart from the first tournament of the season so it really could be anyone but if I was to have a guess I would say maybe Mark Allen.
"Between now and then I will go back, have more practice, take it easy and watch some of the games to see how people are playing. I am really looking forward to Saturday now. I haven't been getting through to the latter stages of many tournaments recently so it is nice to be involved.
"I have played some decent stuff this season but there are a lot of top players now and if you don't play to the best of your ability you are going to get beaten. Today I played really well and for me the other players missed some chances, which helped get me through."
Selby was disappointed with the outcome; "A lot of the chances he had were off my mistakes; it wasn't like he potted a great long red and got in. The match before the interval turned it. I went in 3-1 down but could have been 3-1 up with just a couple of shots here and there which I missed where I wouldn't normally miss.
"If I pot those I am 3-1 up and might win the game. When he was in, as in the first match today, he scored really well.
"I will have a few days off now and then back to the practice table. The UK is next for me, I am not in Germany because Vicky is expecting our first child."
It's the second year of the £270,000 event which sees all winners of World Snooker tournaments over the past 12 months compete over six days live on ITV4. The field is topped up via the Official World Rankings.
In the afternoon's semi-finals, Trump again looked outstanding as he put paid to Stephen Maguire's hopes as the Scotsman's miserable run continued. In the opening match, the sizeable crowd at the Ricoh enjoyed a rare TV match with six times World Champion Steve Davis, who gave it a go before going down 4-1 to World No.1 Selby.
"It was nice to play on a TV table and to play against the World champion," said the 57 year-old legend.
"There are no guarantees in my position for how often you get to play against the top players. If you are playing in qualifiers you may never get to see them. It is great to play the top players because they are cutting edge and that is good to watch on the table.
"I had my moments out there and I enjoyed the challenge but when it came to it he made an excellent clearance from 53 behind and that is usually what the champions do.
"They are pretty solid in that department when they get a sniff. He put me to bed quite easily even though it wasn't necessarily a 4-1 scoreline at one stage."
Group 1 Matches – Wednesday 5th November
Ronnie O'Sullivan v Stuart Bingham (13.00)
Shaun Murphy v Marco Fu (to follow)
(Best of 7 frames)