Group One
Final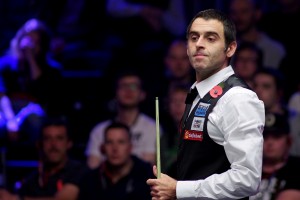 Ronnie O'Sullivan 6-0 Marco Fu
103-0 (75), 71-0 (71), 104-14 (37, 62), 71-66 (O'Sullivan 61, Fu 45), 105-0 (37, 60), 69-21 (32)
Semi-Finals
Ronnie O'Sullivan 4-2 Stuart Bingham
103-9 (60, 39), 13-107 (107), 47-74 (62), 102-0 (83), 115-0 (115), 112-1 (103)
Marco Fu 4-1 Shaun Murphy
26-65 (50), 56-13, 77-8 (46, 31), 97-25 (56, 32), 80-15 (80)
DEFENDING CHAMPION Ronnie O'Sullivan blitzed his way into the weekend's semi-finals of the Dafabet Champion of Champions with a stunning 6-0 demolition of Marco Fu at the Ricoh Arena in Coventry. Earlier he had beaten Stuart Bingham 4-2 in his opening match.
The World No.4 continued where he left off this afternoon as he hit the ground running with breaks of 72 and 75 to put Fu under immediate pressure. He took the next before the Hong Kong player had a chance to take the fourth but could not capitalise on a 45 break as O'Sullivan struck back with a 61 to set up another frame.
Fu was not at his best as O'Sullivan took the remaining two frames in 28 minutes to set up a meeting with Ding Junhui this Saturday.
Commented O'Sullivan, "Marco had a good win today against Shaun, so it was a tough match for me. I never expect an easy match against him because when I play him he seems to play well against me.
"I was expecting a tough match but I watched a bit of Marco's game and you could see he was struggling a little bit and tonight he struggled with his game. You have to go out there and do a job and try and get the win.
"I am pleased to still be in the tournament, this is one of the better tournaments we play in. To still be in it and have the weekend to look forward to is great.
"Ding is the winner of five major ranking events last season and only Stephen Hendry has been able to do that in the past so that is a measure of the quality player Ding is. We have good games when we play each other and I like playing Ding because he plays the right shots. I will look forward to it."
For Fu it was a highly disappointing end to what was a promising day, as he took care of a lacklustre Shaun Murphy 4-1 to make it through to the evening match.
"It was tough for me today. Ronnie played pretty well but I didn't take my chances today. I didn't play well in either match today. This afternoon I wasn't good enough but I caught Shaun on a bad day, so it was one of those matches where we both lost a lot of balls and I managed to win.
"It is a little bit frustrating. I need to spend a little bit of time on my own practicing. Next week will be vital to make sure I am physically and mentally ready for York, because it is a big tournament everybody wants to do very well in. I need to use next week wisely and hopefully I can get my form back."
It's the second year of the £270,000 event which sees all winners of World Snooker tournaments over the past 12 months compete over six days live on ITV4. The field is topped up via the Official World Rankings.
Group 3 Matches – Friday 7th November
Neil Robertson v Ali Carter (13.00)
Ricky Walden v Mark Allen (to follow)
(Best of 7 frames)