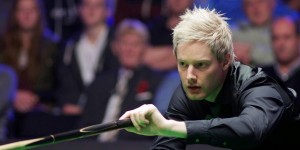 Group 3
Final
Neil Robertson 6-3 Ricky Walden
0-130 (43, 87), 70-21 (64), 134-0 (134), 53-64 (Walden 37, Robertson 53), 0-106 (45, 61), 74-4 (59), 64-55 (Walden 46, Robertson 36), 71-13 (37), 66-27
Semi-Finals
Neil Robertson 4-0 Ali Carter
103-14 (38, 50), 113-8 (111), 106-23 (106), 76-23
Ricky Walden 4-0 Mark Allen
11-12 (53, 47), 78-30 (58), 71-11 (31), 86-8 (86)
NEIL ROBERTSON is the final player through to the semi final stages of 2014 Dafabet Champion of Champions as he overcame International Champion Ricky Walden 6-3 at the Ricoh Arena, Coventry to set up a clash with Judd Trump on Saturday evening.
It was a close fought match in the early stages with both players contributing as the score moved to 3-3 at the halfway stage. Perhaps the critical moment of the match came in the next frame as the Chester cueman, the frame within his grasp, played an attempted double into the bottom right corner pocket only to see the white travel up the table dropping in the top right corner.
That made it 4-3 to the Australian and he took the final two frames against a fading Walden to seal a creditable victory.
Commented Robertson; "With this sort of format it is going to be who can last the longest in the second match if it does get a bit tight. The match started off very well and the standard in the first four frames was brilliant.
"After that there was a bit more safety play and the turning point was me winning that frame to go 4-3 up on the black, and Ricky maybe started to tire a little bit and understandably so because he has just come back from a big win in China on Sunday.
"I have played Judd a few times and have both beaten each other in big matches, and both gone on to win tournaments when we have beaten the other, him in particular – he has beaten me two or three times and gone on to win big tournaments.
"We always seem to have strange matches, neither of us seem to play our best but it will be a great occasion; one table set up and in front of a big crowd," he added.
It is the second year of the £270,000 event which sees all winners of World Snooker tournaments over the past 12 months compete over six days live on ITV4. The field is topped up via the Official World Rankings.
The afternoon matches saw 4-0 wins for both Walden and Robertson. The recent International champion beat Mark Allen while Robertson faced Ali Carter.
It was an emotional return for the World No.13 who had recently completed a course of treatment for lung cancer and was playing his first televised event since his illness. Carter entered the arena to a standing ovation and while the match was a one-sided affair, it was an important stop in his comeback.
He said, "It was the right result today, after what I have been through, no competitive play to speak of really for six months. I have had a nightmare from start to finish; I came out of the house today without a suit so I am wearing jeans, somebody else's shirt, somebody else's tie, Ricky Walden's waistcoat.
"It was a pleasure to be out there playing again in front of a big crowd and I got a great reception, so I am very pleased and I am looking forward to the UK.
"I couldn't take the reception all in because I have a waistcoat which looks like a bin liner on me! It was great and I really appreciated it.
"It was great to be out there. I wish the result was the other way round but it wasn't, so I will go home and enjoy my life.
"The UK in York is one of my favourite events and when I got diagnosed that was the one I was targeting. It was a bonus to get into this and it would have been nice to go out there and do the business but it wasn't to be.
"I will get on the practice table, into the gym and next time I will make sure I pack my suit and it is in the car when I get home so I won't forget it when I go to York."
Semi-Final Matches – Saturday 8th November
Ronnie O'Sullivan v Ding Junhui (13.00)
Judd Trump v Neil Robertson (19.00)
(Best of 11 frames)