Semi-Final 1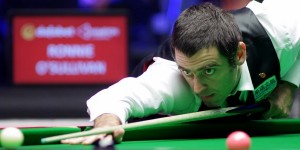 Ronnie O'Sullivan 6-4 Ding Junhui
74-19 (32, 38), 16-91 (51, 33), 90-1 (47, 43), 82-12 (41, 41), 26-88 (88), 0-115 (111), 105-0 (105), 34-85 (Ding 33), 91-1 (91), 125-0 (125)
RONNIE O'SULLIVAN continued his superb run at the Dafabet Champion of Champions as he overcame a spirited fight back by Ding Junhui to run out a 6-4 winner to reach his second consecutive final of the £270,000 event.
The 'Rocket' has now won seven consecutive matches in the Champion of Champions, having won the inaugural title last year, and will face either Neil Robertson or Judd Trump in the best of 19 frame final on Sunday evening.
O'Sullivan took a 3-1 lead into the mid-session interval courtesy of his superior match play. After the break though Ding levelled it up with excellent breaks of 88 and 111 but O'Sullivan fired back with a 105 – his first ton of the match – to regain the lead.
Ding got on level terms, winning the 27 minute eighth frame before the Essex man found another gear with runs of 91 and 125 to clinch the victory.
"For me it was a good win, I had to battle which I quite enjoyed today," said O'Sullivan.
"Ding had a fantastic season last year and he is a top player. He has had a good few years and continues to play really well. You expect top players like Ding can get on a run of winning two or three frames and that is what he did from 3-1 down.
"I just had to tell myself I hadn't done a lot wrong, maybe the odd mistake, but you can't play perfect snooker all the time. You have to keep competing and make him work until the end," he added.
Despite his strong comeback, Ding was a bit disappointed; "I didn't play well in the first part of the session, I had chances but I lost a bit of concentration.
"I would sit down for a couple of minutes but when I got a chance I wasn't taking it. He played very well in the last few frames.
"I was missing balls in the first session and it didn't help my concentration. In the interval I tried hard to focus and when I came back from the interval I had better concentration.
"He took his chances. He missed some balls but I didn't take the chances. I had some good breaks to get to 3-3 and he didn't the snookers well so I got some chances but made some bad choices."