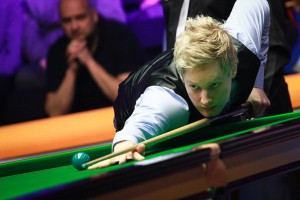 Neil Robertson advanced to tonight's Group 4 final in the 188BET Champion of Champions, after a comfortable 4-0 victory over Rory McLeod at Coventry's Ricoh Arena.
Robertson had top breaks of 109 and 78 on his way to overcoming McLeod, who was made to pay after not making the most of the opportunities that fell his way.
After a lengthy safety battle in the opening frame, the world number three got in with a long red and went on to make a 109 clearance to edge in front.
He doubled his lead after an equally tight second frame, which saw him take advantage as his opponent continued to struggle and miss some very straightforward pots.
'The Thunder from Down Under' looked in control to go 3-0 up, before breaking down on 47 when overstretching for a pink.
Ruhr Open champion McLeod replied with a 42 but played a very poor safety shot on the green, allowing Robertson to clear to the pink to move one away from victory.
The Australian has reached the semi-finals in both of the previous two years of this event, and a run of 45 followed by a 78 clearance were enough to see him through to set up a showdown with either Shaun Murphy or Yan Bingtao this evening.
"It was a tough match, Rory came in with a good win in Germany," said Robertson. "I thought I played well. The chances he got in the earlier frames he created with good play but didn't take full advantage of them and I took advantage of his mistakes.
"I didn't really make a mistake until the third frame when I missed a tricky pink stretching across the table.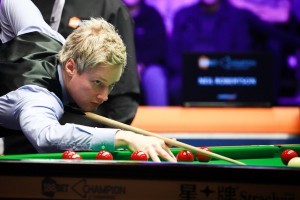 "A couple of years ago I didn't enter an EPT event to focus on this and the UK Championships and I got to the semis here and went on to win the UK, and I have no regrets in terms of my decision not to play in Bulgaria.
"I feel a bit fresher and have had a few extra days of practice, so I am very happy with my decision and the fact I took an extra five or six weeks off at the start of the season to spend some time back home. My results are starting to pick up and I am starting to play a lot Better now.
"I will probably watch a bit of Murphy against Yan Bingtao. Yan is a fantastic prospect and everybody knows how good Shaun is, so it will be a fascinating match.
"This is my third appearance in a row in the quarter-finals here and I have made the semi-finals the last two years so it will be nice to play at the weekend again this year."