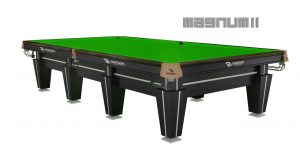 Matchroom Multi Sport is excited to announce that RASSON BILLIARDS is to provide the Official Table for the 2018 ManBetX Champion of Champions snooker which takes place from 5th to 11th November at the Ricoh Arena, Coventry.
The acclaimed Chinese company were the Official Table Supplier to the World Games snooker competition in Poland in 2017 and their pool division has been the Official Table of Matchroom Multi Sport's roster of world class international pool events for the past three years.
The ManBetX Champion of Champions is the annual 16 player tournament that features winners of all World Snooker events and sanctioned events over the previous 12 months. Televised live on ITV4 in the UK, CCTV in China as well as numerous broadcasters around the world, the ManBetX Champion of Champions is one of the most sought-after titles on the calendar.
Commented Junny Song, General Manager of RASSON BILLIARDS, "We're so delighted that RASSON will be the Official Table Supplier of Champion of Champions this year! We've been cooperating with Matchroom these past few years on their pool events and we've experienced ourselves how amazing Matchroom events are.
"This would be the first time for us to work with them on a snooker event, but our Magnum table was chosen as the Official Snooker Table at World Games in Poland last year. The table received praise from both WCBS and the competing pro snooker players following the event.
"This table is innovative on design and very different from traditional snooker tables in the market. We feel this is a great time for the snooker world to have something new and we're all excited about this opportunity at the Champion of Champions and know everyone will enjoy playing on the table. We look forward to a closer cooperation with Matchroom on more events in the future."
Emily Frazer, COO of Matchroom Multi Sport said, "We're thrilled to be working with RASSON on the ManBetX Champion of Champions. They have been a huge success on our pool events like the Mosconi Cup with their state-of-the-art Victory II pool table, and we're very much looking forward to using their Magnum snooker table in Coventry.
"The ManBetX Champion of Champions is established as one of the biggest tournaments on the calendar. With 16 of the world's best players in a one-table setup in front of fantastic crowds at the Ricoh Arena, this a great opportunity to showcase RASSON's Magnum table."
Tickets for the ManBetX Champion of Champions are on sale now at www.championofchampionssnooker.co.uk priced from just £11. Premium and VIP packages are also available.