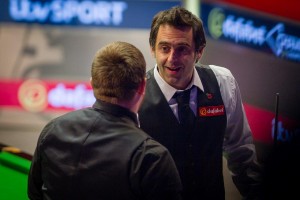 Ronnie O'Sullivan played mesmerising snooker as he raced into the Dafabet Champion of Champions final, beating Mark Allen 6-2 to set up a clash against John Higgins at Coventry's Ricoh Arena tomorrow.
The five-time World champion scored breaks of 130, 124 and 109 on his way to victory – the sold-out crowd also treated to two tonnes from Allen, who will feel he barely had an opportunity to prevent 'The Rocket', who was displaying some of his very best snooker.
When the Northern Irishman did have opportunities early in the match, he took them. Breaks of 100 and 109 kept him level with O'Sullivan at 2-2 at the interval. But after the break the Essex man scored quick breaks of 73, 129 and 109 to speed to 5-2 ahead and in the eighth frame he confirmed his place in the final.
O'Sullivan raised a laugh from the crowd as he literally threw the towel in after a 59 break in the final frame saw him seal his place in Saturday's showpiece. It will be the 17th time 'The Rocket' has met Higgins in a final but the first since the 2007 Premier League; O'Sullivan has won ten of the previous 16.
"I felt in control of my game, which was nice because it has been a bit of a struggle lately," said O'Sullivan. "Mark is a really top match player and he has been cueing really well for a few years, so I had to play well tonight to beat him.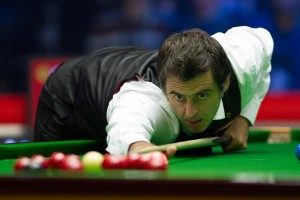 "The first four frames I probably wasn't playing a good enough standard to win it, but I played well after the interval.
"John and I came through at the same time, so we will have played each other quite a lot between us and he is an amazing player. John is the man in form. He has played steady all season and took it up a notch and played brilliantly in China.
"He is at the stage at the moment where he is very comfortable with his game and he will want to ride that wave as long as he can. I will have to play good, solid, snooker tomorrow."
Allen commented: "That is what it is taking to beat me right now, so I have to take the positives out of it. I don't feel I made that I made that many mistakes, one or two loose safeties, but against the top players that can be the difference.
"He never looked like missing. It is a match I have lost 6-2 but I enjoyed it. That is what you want to play snooker for, to play the very best players, on the biggest stage, in the big tournaments. Sometimes you have to hold your hand up and say your opponent was too good. If he plays like that he is going to be hard to stop."
The Dafabet Champion of Champions final takes place over 19 frames on Saturday, with nine frames played in the afternoon session from 1pm and the matched played to a conclusion from 7pm in the evening session.