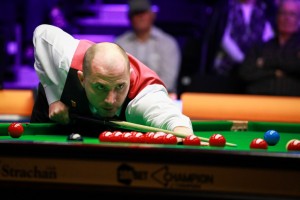 Joe Perry will play John Higgins in the Group 1 final of the 188BET Champion of Champions, after beating Michael White 4-2 in the battle of the debutants at Coventry's Ricoh Arena.
'The Gentleman' has narrowly missed out in each of the first two events, but made up for lost time with breaks of 68 and 66 on his way to victory.
White looked on course to take the opening frame when he opened up a 47-0 lead, but Perry ground himself back into contention and eventually took it on the black after his opponent missed a tricky brown to the top left corner.
The Players Championship Grand Final winner was in again in frame two on a break of 34, but a missed opportunity saw White run in 84 to level the match up.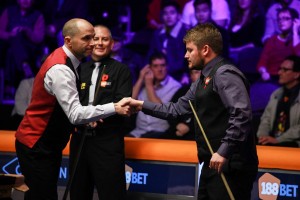 Both players traded the next two frames with Shoot Out and Indian Open champion, White making a break of 70 to cancel out an effort of 66 from Perry.
The world number 10's experience eventually pulled him through as he took a scrappy fifth frame to move one away from victory, which he secured in the next with a top run of 68.
"It was a tight, tense affair and early on it was going frame for frame but I had my nose in front all of the way through," he reflected.
"I missed a couple at 1-0 and 2-1 to give me the two-frame cushion but, from 2-2, I played pretty solid from there. There were a few unforced errors when I ran out of position but they didn't cost me frames.
"I felt pretty strong out there. This is the elite of the game and if you make mistakes you tend to get punished, so it is important to erase the misses and unforced errors from your game.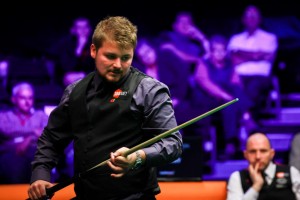 "I have felt pretty hard done by that this is my first appearance as I have missed our narrowly for one reason or another before but we won't go there. It was nice to make my debut and get a win.
"It is a tough field and I have the man in-form tonight, and he is up there in the top three players ever, arguably the best stats-wise. I am looking no further than that. My record against John is abysmal but I don't read too much into that and hopefully I can play strongly tonight and give myself a good go.
"It is always nice to play John at any time but it is pretty special out there, it is a nice place to play and I am thoroughly looking forward to it."