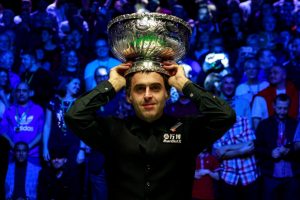 The Final
Ronnie O'Sullivan 10–9 Kyren Wilson
16-71 (Wilson 50), 77-0 (O'Sullivan 61), 94-19 (O'Sullivan 94), 107-29 (O'Sullivan 107), 97-8 (O'Sullivan 86), 60-48, 38-79, 41-86 (Wilson 86), 131-0 (O'Sullivan 131), 23-64, 46-72 (Wilson 52), 94-0 (O'Sullivan 94), 88-2 (O'Sullivan 49), 16-76 (Wilson 56), 52-58 (O'Sullivan 52, Wilson 56), 16-104 (Wilson 104), 24-65 (Wilson 65), 71-61 (Wilson 61), 118-6 (O'Sullivan 110)
Ronnie O'Sullivan survived a Kyren Wilson fightback to win his third ManBetX Champion of Champions in a deciding frame at the Ricoh Arena in Coventry.
O'Sullivan, who won this event in 2013 and 2014, had led 5-1 and 8-5 in the final but Wilson twice came back and then led 9-8 before presenting The Rocket with a chance to level at 9-9, which the five-time World Champion took before winning the £100,000 title with a 110 clearance in a dramatic final frame.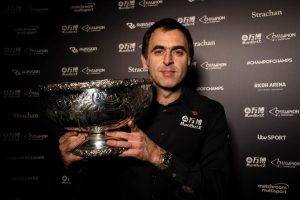 "It feels great to win the title," said O'Sullivan, who also becomes the first player to earn an invite to the 2019 ManBetX Champion of Champions.
"I got off to a flyer on Tuesday and that set some momentum going and I played okay [in the semi-final] against Shaun Murphy, not great, but managed to get over the line and today to go 4-1 up I played pretty decent and thought this was going to be a nice day. Then the wheels fell off and I was hanging on really.
"I wasn't playing with enough fluency to dominate. I wasn't at my best but you have to compete and do your best and give whatever there is to give on the day and that is what I did.
"You expect a high standard because you have 16 quality players. You come to this tournament and you're jeed up before it even starts because you know you have to perform well.
"Kyren will be a World Champion for sure because he has got bottle, he has the right attitude, he loves the game and he is dedicated to the game."
O'Sullivan dominated much of the afternoon session, establishing a 5-1 lead with breaks including a 94, 107 and 86. He could have further extended his lead in the seventh but Wilson capitalised when The Rocket missed a red with 31 already on the board from a previous visit and pulled back to 5-3. However, an excellent total clearance of 131 saw O'Sullivan take a three-frame advantage into the evening session.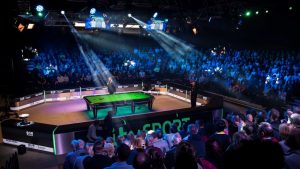 The Wilson resurgence resumed at the start of the second session as the Kettering potter closed to within one of The Rocket. But O'Sullivan took the following two frames to lead 8-5 at the mid-session interval of the final session, with many fans expecting to see the five-time World Champions close out the victory soon after the break.
But The Warrior battled on and drew level with a 104 to record a third successive frame and his first century of the match before moving ahead for the first time in the match at 9-8.
As Wilson seemingly closed in on victory O'Sullivan was handed a lifeline. His opponent missed a red on a break of 61 and The Rocket knew he had to take the chance, which with breaks of 36 and 34 he did.
O'Sullivan had the first chance of a dramatic deciding frame but the red jawed. However, he was soon back to the table as Wilson foul potted a red in splitting the pack. The Rocket then missed another red before The Warrior left one in the jaw. The drama wasn't yet over as O'Sullivan fouled when his waistcoat brushed a red which was sat against the bottom cushion.
A double kiss meant Wilson's subsequent safety wasn't executed as he'd intended and this time O'Sullivan didn't allow his opponent back to the table and he closed out with a break of 110.
The ManBetX Champion of Champions returns to Ricoh Arena, Coventry next November 4-10 2019, with tickets on sale from midday on Monday, November 12 at www.championofchampionssnooker.co.uk.