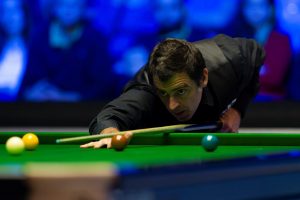 Group Four
Final
Ronnie O'Sullivan 6–3 John Higgins
79-22 (O'Sullivan 57), 109-16 (O'Sullivan 109), 0-91 (Higgins 91), 59-70 (O'Sullivan 59, Higgins 70), 0-83 (Higgins 83), 101-4 (O'Sullivan 101), 137-0 (O'Sullivan 137), 72-6, 114-0 (O'Sullivan 114)

Semi-finals
Ronnie O'Sullivan 4-2 Stuart Bingham
19-64, 129-0 (O'Sullivan 109), 116-0 (O'Sullivan 116), 25-65 (Bingham 56), 76-1 (O'Sullivan 68), 84-38 (O'Sullivan 60)

John Higgins 4-3 Ryan Day
16-69 (Day 69), 117-1 (Higgins 106), 100-0 (Higgins 100), 1-74 (Day 56), 10-114 (Day 106), 60-31, 92-15 (Higgins 66)
Ronnie O'Sullivan will meet Shaun Murphy in the ManBetX Champion of Champions semi-finals after beating Stuart Bingham and John Higgins to progress from Group Four of the event at Coventry's Ricoh Arena.
O'Sullivan won the first two frames of the group final but Higgins took a 3-2 lead with breaks of 91, 70 and 83. 'The Rocket' responded with three consecutive frames of his own, including two century breaks; 101 and 137 to get to within one of the match. A 114 in the ninth frame, his sixth century of the day, saw O'Sullivan through to the last four of the ManBetX Champion of Champions for a fifth time where he will meet defending champion Murphy in a repeat of last year's final.
"I scored alright tonight so I won a lot of frames in one visit, which was good," said O'Sullivan. "Sometimes it is irrelevant who you are playing if you keep clearing up, it is a much smoother match.
"You try to play your best game all the time but against John, him and Hendry are the best players that I have ever played and you know you have to play brilliant and sometimes no matter how well you play you can sit in your chair for five, six, seven or eight frames and not get a shot. You're always aware that could happen at any moment.
"[Before the semi-final] I will take it easy, relax, cook some food, go to the gym, do some running, watch a bit of snooker and take it easy."
Earlier O'Sullivan had beaten Bingham 4-2 in the group semi-final while Higgins had beaten Ryan Day 4-3. The ManBetX Champion of Champions continues with Group Three on Wednesday. The semi-final fixtures are Mark Williams vs. Kyren Wilson followed by Judd Trump vs. Luca Brecel.
The ManBetX Champion of Champions features World Snooker tournament winners from the previous 12 months, including World Champion Mark Williams, UK Championship winner Ronnie O'Sullivan and Shaun Murphy, who will defend the title he won last November.
The tournament begins with four groups, each featuring a semi-final and final on the same day with the group winners progressing to the tournament semi-finals on Friday 9th and Saturday 10th November. Sunday's final will be played over 19 frames with the winner taking home £100,000.