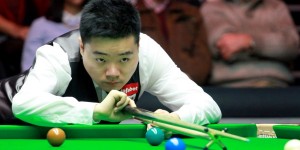 Group 4:
Final
Ding Junhui 6-5 Barry Hawkins
68-12 (46), 66-1 (65), 33-75 (47), 105-8 (105), 67-27 (46), 19-71 (70), 0-80 (80), 2-72 (31), 67-18 (33), 0-112 (112), 68-22 (51)
Semi-Finals
Ding Junhui 4-2 Dominic Dale
72-48 (Ding 52), 79-2, 77-0 (Ding 77), 54-64 (Ding 54, Dale 58), 57-62 (Dale 49), 63-11
Barry Hawkins 4-1 John Higgins
75-1 (75), 8-83 (39, 44), 73-1 (57), 92-0 (73), 67-24 (58)
DING JUNHUI became the first player through to the final four of the Dafabet Champion of Champions as he squeezed past Barry Hawkins in a final-frame decider at the Ricoh Arena, Coventry.
The Chinese player had started superbly as he raced into a 4-1 lead, a break of 105 in the fourth frame being his best effort. Hawkins though came back into the match with breaks of 70 and 80 his highest breaks to that point as he levelled it at 4-4. They shared the next two, including a 112 break from Hawkins, to set up a decider and Ding's run of 51 was enough to give him victory.
"I had a good start, went 4-1 ahead, then he started to play some good safeties and he wasn't missing anything," said a relieved Ding.
"I had two bad safeties in two frames and his confidence was coming back. There wasn't too much pressure today and I always believe myself that I can win.
"Tonight I did well with my concentration on the game. I didn't feel too much pressure when he was coming back and making big breaks. Maybe he thought the pressure was returning to me, but what I thought was different.
"I will practise for the rest of the week but I will watch when I can and in the evening I will watch Wednesday's group final. If it is Ronnie I play next, I will just play my game and try to beat him."
It's the second year of the £270,000 event which sees all winners of World Snooker tournaments over the past 12 months compete over six days live on ITV4. The field is topped up via the Official World Rankings.
For Hawkins, it was a poor start which ultimately cost him dear; "I started off a bit too slowly. I missed a couple of half chances and left Ding in the balls too easily at the start. I played quite well after that and it was a pretty good game.
"There weren't many balls missed but it was disappointing not to get a chance at the end. I had a couple of poor safety shots and the second time I let Ding in I knew he would make a break then because he does that time and time again.
"I got back to 4-4 and missed the blue off the spot. I shouldn't have missed that and it was a bit of a turning point because I had come back and was starting to get on top, he was starting to struggle. I came back with a good frame to go 5-5 with a nice century but then made a couple of bad safeties in the last frame."
Earlier Ding had beaten Dominic Dale, who arrived in Sheffield courtesy of his win at the Shoot-Out last January. Despite looking a little rusty in the opening frames, Ding moved into a 3-0 lead before the Welshman took the next two including a 50 minute-plus fifth frame. The Chinese though, took the next to clinch the win and a spot in the evening match.
Barry Hawkins, looking to kick-start his season, got off to a fine start as he dispatched John Higgins to set up the evening match with Ding. Having been an early casualty in China last week, the South London man had plenty of time to prepare and two 70-plus breaks as well as two more in the 50s saw Hawkins over the line.
Group 2 Matches – Tuesday 4th November
Mark Selby v Steve Davis (13.00)
Judd Trump v Stephen Maguire (to follow)
(Best of 7 frames)