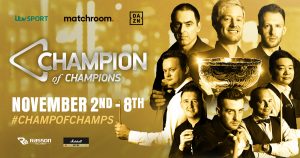 The draw for the 2020 Champion of Champions will take place on Tuesday afternoon and will be broadcast on the Champion of Champions Facebook page and Matchroom Multi Sport YouTube account.
The draw will take place during Winners' Week of the BetVictor Championship League Snooker, which is currently taking place at Stadium MK, Milton Keynes and being broadcast at Matchroom.Live.
Players are split into three seeding pools for the draw, based on their current WST World Ranking, with players in Pool One automatically allocated to the group which corresponds with their seeding. Neil Robertson is the defending Champion of Champions and will take his place in Group 1 as the tournament's No.1 seed. World No.1 Judd Trump will be in Group 2, with World Champion Ronnie O'Sullivan in Group 3 and World No.4 Mark Selby in Group 4.
They will each be joined by one player from Pool Two (Mark Allen, Kyren Wilson, Shaun Murphy and John Higgins), to be drawn at random. The remaining eight players will be in Pool Three, with two drawn into each group.
The group semi-finals will see the highest ranked player in each group face the lowest ranked player, followed by a match between the second and third ranked players.
The Champion of Champions features 16 tournament winners from the last 12 months and the field will be completed by the winner of this week's BetVictor Championship League Snooker.
With 13 different players having won events in the last year, Mark Allen and John Higgins join the field as the next-highest ranked players not to have qualified. Should the BetVictor Championship League Snooker also yield a repeat winner, David Gilbert will join the Champion of Champions.
2020 CHAMPION OF CHAMPIONS QUALIFYING LIST
| | | | | |
| --- | --- | --- | --- | --- |
| Champions of Champions 2019 | | Neil Robertson | | Nov-19 |
| UK Championship 2019 | | Ding Junhui | | Dec-19 |
| The Masters 2020 | | Stuart Bingham | | Jan-20 |
| World Championship 2020 | | Ronnie O'Sullivan | | Aug-20 |
| | | | | |
| European Masters 2020 | | Neil Robertson | | Jan-20 |
| German Masters 2020 | | Judd Trump | | Jan-20 |
| World Grand Prix 2020 | | Neil Robertson | | Feb-20 |
| Players Championship 2020 | | Judd Trump | | Mar-20 |
| Championship League Snooker 2019/20 | | Scott Donaldson | | Mar-20 |
| Championship League 2020 | | Luca Brecel | | Jun-20 |
| Tour Championship 2020 | | Stephen Maguire | | Jun-20 |
| European Masters 2020 (2) | | Mark Selby | | Sep-20 |
| Championship League Snooker 2020 (2) | | | | Oct-20 |
| | | | | |
| Northern Ireland Open 2019 | | Judd Trump | | Nov-19 |
| Scottish Open 2019 | | Mark Selby | | Dec-19 |
| Welsh Open 2020 | | Shaun Murphy | | Feb-20 |
| English Open 2020 | | Judd Trump | | Oct-20 |
| | | | | |
| World Championship Runner-up 2020 | | Kyren Wilson | | Aug-20 |
| | | | | |
| Gibraltar Open 2020 | | Judd Trump | | Mar-20 |
| | | | | |
| Shoot Out 2020 | | Michael Holt | | Feb-20 |
| World Seniors Championship 2020 | | Jimmy White | | Aug-20 |