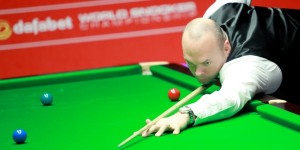 By Jonathan Davies
After being just two frames away from glory in 2013, Stuart Bingham is hoping to go one better and become this year's Dafabet Champion of Champions.
Basildon's Bingham beat Ricky Walden, Judd Trump and Mark Selby en route to the final last year, where he took Ronnie O'Sullivan all the way before narrowly losing 10-8.
Despite just missing out on the top prize of £100,000, Bingham thoroughly enjoyed the inaugural event at the Ricoh Arena.
"I thought it was very good," he observed. "I played pretty well, beat some good players along the way and just came up short against Ronnie.
"The tournament was televised very well on ITV4 and I'm looking forward to it again this year."
The likeable Essex cueman, nicknamed 'Ballrun', is back in the tournament after winning the Shanghai Masters in September. He also won the Haining Open two weeks ago and is confident that his current form can see him go one better than last time in Coventry.
"My game's really solid at the moment and fairly consistent," he said. "I'm working with my coach Steve Feeney at SightRight, we're striving forward and the result in Shanghai has proven that.
"I've just got to get on with my own game, do what I do in practice and hopefully it'll all come good."
38-year-old Bingham is approaching nearly two decades as a professional and is now firmly established among the world's top 16, currently ranked number 10.
After seeing his career progress steadily, he has reaped the benefits of his hard work in recent years – reaching a career-high world ranking of number four at the back end of last season.
"The first few years were a massive learning curve," he admitted. "I thought I was the bee's knees when I turned pro, but I look at myself now and think I was rubbish really. I've stuck at it though and the last four or five years have really paid off for me."
And Bingham still has the same burning passion for the game almost 24 years since he first started playing.
"I still love the game. I love to play people. I still enjoy going up the club and practising. I love tournaments," he said. "I'm still a fan – I still watch a tournament on the TV when I've got beat and I'm out of it."
Bingham has understandably thrived upon the increased number of events in the last couple of years, and does not see himself being more selective about what he plays in any time soon.
"I've always been one to play in everything and I'm not going to change for anyone," he insisted.
The Indian Open being moved from October to March has only added to what was already going to be a jam-packed final two months of this season.
The World Grand Prix, Players Championship Finals and China Open are also set to be played, as well as the World Championship.
"It is going to be very hectic," Bingham added, "but I'm going to play in everything I can and try to win another title."
Bingham is also hoping for a significant improvement in the Masters and the World Championship later in the campaign, having suffered first-round defeats in both events last year.
"I haven't won a game at Alexandra Palace yet so that's my first step!" he laughed. "It would also be nice to get to the quarter or semi-finals of the World Championship – you never know from there!"