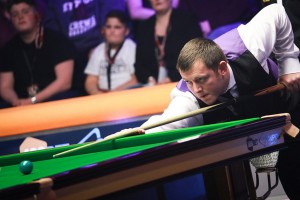 Mark Allen will play Neil Robertson in the final of the 2015 188BET Champion of Champions, after beating Kyren Wilson 6-3 in the semi-final at Coventry's Ricoh Arena.
Top runs of 88 and 80 saw 'the Pistol' fire his way into the final and make it 10 wins in a row following his triumph in the European Tour's Bulgarian Open last Sunday.
Wilson had been arguably the most composed player of the week so far, having beaten Judd Trump and Zhou Yuelong to win Group 3 on Tuesday, and he made a perfect start to this final with a run of 51 giving him the opening frame.
He had also beaten Allen at this stage on his way to winning the Shanghai Masters two months ago, but struggled to maintain his flow and it was very much one-way traffic from there as Allen turned the deficit into a 2-1 lead.
Kettering's Wilson was in first in frame four, but was very unfortunate to go in-off when trying to split the pack from potting the blue. World number 11 Allen took advantage of his good fortune by clawing his way back, before making a 36 clearance to the pink to move two frames ahead at the mid-session interval.
A 33 clearance increased his lead to three after the break, but Wilson produced a much-needed response as he replied with 65 before runs of 44 and 56 saw him close the gap to just a single frame at 4-3 behind.
At this point, 'the Warrior' was demonstrating brilliant battling qualities but ran out of position when in first in frame eight. After a 44-minute-long affair, Allen eventually put himself on the brink of victory with a break of 40.
He needed no second invitation as a solid 88 was enough to secure his place in the final, which is a fantastic achievement given the fact that he had failed to win in each of his two previous appearances here.
"At 4-3 up, that was a frame that I needed," said Allen. "At the time Kyren was really dominating and I had a bit of misfortune when I was 4-1 up and could have gone 5-1 and from then on Kyren dominated. His long potting was very good, his safety was very good, he didn't miss anything and I went 45 minutes without potting a ball.
"I was ready for my chance when it came but that scrappy game came at a perfect time for me. I didn't want a re-rack because I wanted to get Kyren out of his rhythm a bit and get myself a bit more table time. It came at a perfect time for me and that frame changed the whole match.
"I played good. I didn't make any massive breaks and it might not look pretty on paper but I didn't do a lot wrong. I am very happy with the way I played; it wasn't spectacular but it was very solid.
"I did an interview last week and I was asked what I thought about Neil. I said, in my opinion, he is the best all-round player in the world. He is a great long potter, very good safety player and he scores very well also. He has a great temperament in the big matches so it is going to be tough tomorrow but I am in the final, I am playing well and if I can concentrate on my game then I think I have a good chance.
"I will have an early night now, go back and watch a few DVDs or things on the laptop, maybe '24' again for about the 20th time. I will get up early, have a bit of breakfast and a bit of practice before we start then off we go."