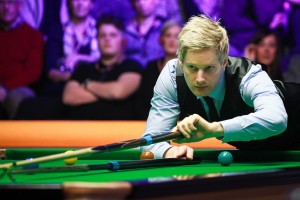 Neil Robertson is the first man through to tomorrow's 188BET Champion of Champions final, after beating good friend Joe Perry 6-4 in the semi-finals at Coventry's Ricoh Arena.
Robertson enjoyed top runs of 144 and 81 and produced some outstanding long potting in what was his third consecutive appearance at this stage of the competition, and will now play either Kyren Wilson or Mark Allen in tomorrow's final.
The players were welcomed into the arena and a somewhat subdued atmosphere following last night's tragic events in Paris, and a minute's silence was observed as a mark of respect before the match got underway.
Both struggled to really settle into their rhythm in the early stages and things got quite scrappy as the opening two frames were exchanged.
Robertson took a crucial third frame on the black following a calm clearance of 31 after Perry had been in first with 47, before moving 3-1 up at the interval with a stunning 144 clearance – the highest break of the tournament so far.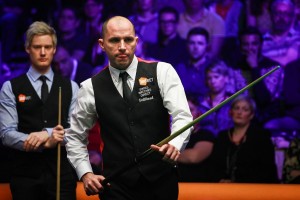 Perry bounced back after the break with runs of 44 and 39 to halve the deficit, but was pegged back once again as his opponent took the sixth frame by sinking a brilliant black to the middle pocket with the white tight on the top cushion.
'The Gentleman', appearing in this event for the first time, refused to lie down and rallied by making a 61 to close the gap before a run of 51 brought the match all square at 4-4.
Robertson responded well with a 61 of his own and, despite a reply of 37 from Perry, went on to move himself one frame away from the final.
The Australian had narrowly missed out on the final in each of the previous two years, but ensured he made it third time lucky as a nice break of 81 was enough to see him over the line.
"It was always going to be tough today playing Joe as we are such good friends and see each other every day at the club," said Robertson.
"We were either both going to play well or both be a bit cautious and nervy and that is how it was in the first couple of frames. The match never really fully broke away from that so it was hard going at times. Also, in bits and pieces, I played really, really well.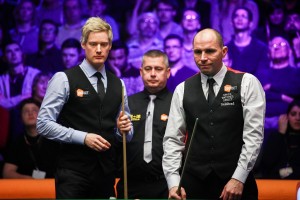 "My long potting was brilliant and I created a lot of chances for myself with my long potting, and my safety was good. The 144 break was great but there were a few shots where I did break down when I didn't really need to, which I will have to improve on for tomorrow.
"The two black-ball games helped me go 4-2 up and if I lost them I would have been 4-2 down so there is a pretty big difference there. The two frames I won on the black I was in early in the frame and should have killed it off, so it is something to improve on for tomorrow."
He added: "At 4-4 Joe was looking much better and starting to play more confident shots and I knocked in a really good 61 break and had the balls at my mercy, but put in a careless shot thinking the frame was over and he had a chance and luckily he didn't take it. I was thrilled with the way I won the last frame.
"Both [Kyren and Mark] are tournament winners this season; Kyren has won the Shanghai Masters and is riding a real crest of a wave at the moment and Allen has really got his season going with the win in Bulgaria, so both would be as tough as each other and both are brilliant players.
"It is my first major final since the Masters and that defeat hurt a lot, so I will be really determined to make amends for that."