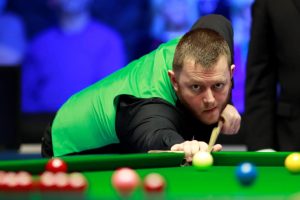 GROUP TWO
Final
Mark Allen 6-1 Neil Robertson
72-53, 119-16 (Allen 119), 17-93 (Robertson 69), 103-5 (Allen 102), 124-6 (Allen 123), 99-0 (Allen 98), 89-0 (Allen 75)
Semi-finals
Mark Selby 3-4 Neil Robertson
49-74, 147-0 (Selby 147), 13-116 (Robertson 95), 118-0 (Selby 100), 87-45 (Selby 61), 0-76 (Robertson 72), 6-61
Barry Hawkins 2-4 Mark Allen
0-144 (Allen 140), 100-33 (Hawkins 87), 94-0 (Hawkins 94), 5-102 (Allen 102), 6-86 (Allen 86), 0-100 (Allen 76)
Mark Allen was in impressive form as he beat Barry Hawkins 4-2 and then Neil Robertson 6-1 to set up a ManBetX Champion of Champions semi-final clash with Kyren Wilson.
Allen arrived in Coventry on the back of winning the International Championship in Daqing, China on Sunday and maintained his form as he made five century breaks – two against Hawkins and three against Robinson – at the Ricoh Arena.
Allen had beaten Robertson to win the International Championship just four days earlier and rematched the Thunder From Down Under after the Australian had beaten Mark Selby 4-3 in his group semi-final, despite the World No.1 making a 147.
Allen led the group final 3-1 at the interval with the help of breaks including a 119 and a 102. The Pistol continued his unrelenting pace after the break with a 123 and a 90, before confirming his place in the last four with a 75 in the seventh frame.
"The first frame was a bit scrappy but after that I didn't really put a foot wrong," said Allen. "I scored really well like I have been doing for a while now and limited Neil to half chances really.
"Ronnie had six centuries on Tuesday so I was disappointed I missed out in the last two frames because I had a great chance to make seven! My game is in good shape but I'm not getting carried away, I am only in the semi-final and I have two very tough matches to get through if I am going to win this tournament but I quietly fancy my chances.
"I feel like I owe Kyren one because he beat me in the Worlds this year but we always have good matches, we are two good players and the best man will win on the day."
The ManBetX Champion of Champions moves into the semi-final stage with defending champion Shaun Murphy facing Ronnie O'Sullivan on Friday evening and Allen facing Wilson in Saturday's semi-final.
The ManBetX Champion of Champions features World Snooker tournament winners from the previous 12 months, including World Champion Mark Williams, UK Championship winner Ronnie O'Sullivan and Shaun Murphy, who will defend the title he won last November.
The tournament begins with four groups, each featuring a semi-final and final on the same day with the group winners progressing to the tournament semi-finals on Friday 9th and Saturday 10th November. Sunday's final will be played over 19 frames with the winner taking home £100,000.