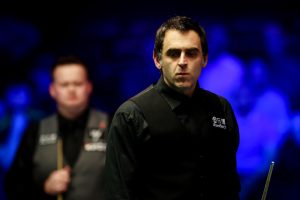 SEMI-FINAL
Ronnie O'Sullivan 6-3 Shaun Murphy
67-57, 0-123 (Murphy 123), 99-23 (O'Sullivan 64), 134-1 (O'Sullivan 82), 57-70 (O'Sullivan 51), 129-1 (O'Sullivan 129), 127-3 (O'Sullivan 127), 0-102 (Murphy 102), 124-7 (O'Sullivan 59, 65)
Ronnie O'Sullivan reached his fifth ManBetX Champion of Champions final as he beat Shaun Murphy 6-3 in the first semi-final at Coventry's Ricoh Arena on Friday evening.
The Rocket built an early 3-1 lead in the best-of-11 and consecutive breaks of 129 and 127 took him 5-2 up. Defending champion Murphy responded with a 102, his second century of the match, but missed a red to the middle at the start of the ninth frame, presenting an opportunity to O'Sullivan. The five-time World Champion allowed his opponent back in when he miscued but Murphy couldn't capitalise and O'Sullivan was soon back at the table to wrap up the match.
"There were frames Shaun could have won but didn't and I feel relieved to get over the line because the cue ball wasn't under complete control and that caused a bit of nerves in my game but the competitive side of my game kicked in and I thought come on, keep going and keep him honest," said O'Sullivan.
"It's all good players here, it's a great venue and you only have four or five matches. You come here fully charged thinking you have to get out of the blocks early and it fires you up in many ways.
"Mark Allen has been knocking centuries in left, right and centre. From China he has come here and kept the same form going and I've seen Kyren play and they are both playing really well. Kyren is an established player now, he has had a bit of a break and looks fresh and Mark is obviously full of confidence."
O'Sullivan will find out who he will meet in Sunday's final tomorrow evening when Kyren Wilson meets Mark Allen in the tournament's second best-of-11 semi-final.
The ManBetX Champion of Champions features World Snooker tournament winners from the previous 12 months including UK Championship winner O'Sullivan, Masters champion Allen and Paul Hunter Classic winner Wilson.
The tournament begins with four groups, each featuring a semi-final and final on the same day with the group winners progressing to the tournament semi-finals on Friday 9th and Saturday 10th November. Sunday's final will be played over 19 frames with the winner taking home £100,000.