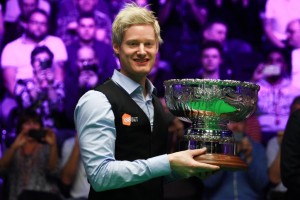 THE FINAL
Neil Robertson 10-5 Mark Allen
63-35 (36), 20-107 (103), 97-6 (43, 53), 133-0 (114), 69-20 (69), 45-57 (Robertson 43), 69-44 (54, 44), 5-81 (60), 75-25 (71), 86-0 (60), 76-35 (40, 35), 55-65 (Robertson 54), 0-112 (112), 46-38, 56-24 (34)
Neil Robertson was crowned the 188BET Champion of Champions after beating Mark Allen 10-5 in the final at Coventry's Ricoh Arena.
Robertson produced some outstanding snooker, enjoying runs of 114, 71, 69 and 60 on his way to winning the title and receiving the winner's cheque for £100,000.
Having narrowly missed out on the final in each of the previous two years, the world number three took a very cautious opening frame with a run of 36 along the way but was pegged back as Allen knocked in a brilliant 103 to level.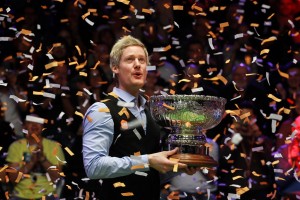 Breaks of 43 and 53 restored the Australian's advantage, before strong breaks of 114 and 69 moved him 4-1 in front. He was in first in the sixth frame but broke down on 43, and his opponent clawed his way back to reduce the deficit on the pink.
The next two frames were exchanged as Robertson's 54 was matched by Allen's 60, before 'the Thunder from Down Under' made a 71 to open up the three-frame lead once again at the interval.
Robertson picked up from where he left off with 60 and a further run of 40 moved him just two frames away from victory.
Allen has enjoyed a return to form lately after winning the European Tour's Bulgarian Open last weekend, but desperately needed a response.
He got one as he pounced on a mistake from his opponent to make it 8-4 on the pink, before a strong run of 112 closed the gap to three frames once more.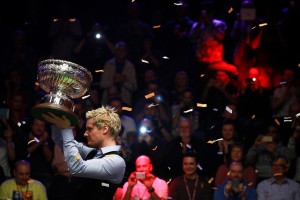 A scrappy 52-minute 14th frame proved to be crucial, as a safety error from the world number 11 allowed Robertson to clear from blue to black to move one away from the title.
It came down to the colours again as the next frame was equally as untidy. A miss on the black from 'the Pistol' allowed 'the Thunder from Down Under' to clear from yellow to blue to seal the victory.
"The support all week has been wonderful and this tournament is a real challenger as our fourth major of the season, it is absolutely amazing," the champion reflected.
"You have to win tournaments to get here, it is a brilliant tournament and conditions were wonderful.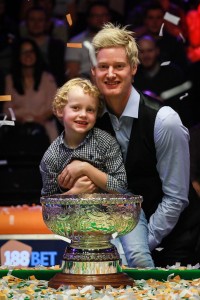 "Commiserations to Mark, he has had a great week but he just wasn't quite at his best today and didn't have the luck either.
"My long game was really good and against Joe Perry I don't think I can pot the balls any better than I did an I knew if I improved on some of the minor mistakes I would have a very good chance today.
"I started off and first session I played really, really well, second session was a bit tighter and overall I was really happy.
"This is the first major title I have picked up in over 12 months now so it is nice to be able to break the duck there and now I can move on for the rest of the season.
"Frame 14 was absolutely huge. Mark was playing the better safety and was creating the chances. I played a really good shot on the blue and happened to snooker him which was a bit fortunate and thankfully he couldn't have left the balls any better. I was relieved to get to nine while he was still on five because had he got to seven or eight then anything could have happened."
Robertson was especially pleased to have picked up the title with son Alexander in attendance.
"I said not to come until I looked like winning because I brought him up for the final of the Masters and Shaun Murphy beat me 10-2," he laughed.
"It is a great moment and all his friends at school I am sure will be looking at it and maybe be a bit jealous."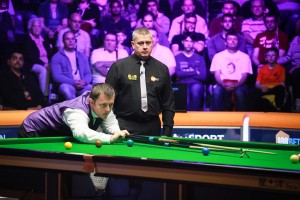 A disappointed Allen reflected: "He (Neil) played very, very well in spells and showed why he is a former world champion and former world number one. I am disappointed with the way I played myself, I had more than enough chances in different parts of the match but I just wasn't up to it today.
"I was nervous from the first frame and never settled down really and I got what I deserved.
"You have to be at your very best if you are going to compete with the likes of Neil. I said last week I thought Neil was the best all-round player in the world and he showed that in spells today. People like Neil drive me on to get better and I will go straight back to the practice table and I will get better.
He added: "There are lots of positives to take from the last nine days, I wasn't even in this event a week ago. The support I have had this week has been fantastic. This is what we play snooker for, to play in big arenas, packed out and have lots of support."