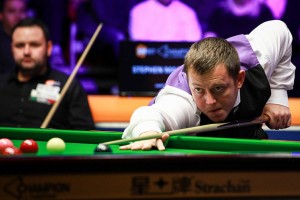 GROUP 2 SCORES
Group Final
Mark Allen 6-2 Stephen Maguire
102-18 (73), 68-35 (39), 77-1 (77), 69-68 (Allen 42, Maguire 68) 0-107 (107), 33-65 (50), 62-24 (40), 104-0 (104)
Group Semi-Finals
Barry Hawkins 2-4 Mark Allen
7-105 (105), 131-0 (131), 70-0 (37), 60-65 (Hawkins 54, Allen 31), 1-78 (Allen 53), 13-83 (49, 34)
Mark Selby 1-4 Stephen Maguire
0-134 (Maguire 134), 74-76 (Selby 55, Maguire 41), 0-76 (76), 93-8 (62, 31), 1-79 (30, 45)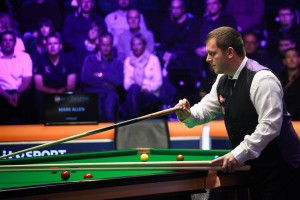 Mark Allen continued the fine form which saw him win the Bulgarian Open on Sunday as he advanced to the semi-final stage of the 188BET Champion of Champions with wins over Barry Hawkins and Stephen Maguire at the Ricoh Arena in Coventry.
Allen beat Maguire 6-2 in Friday's group final, having beaten Hawkins in the group semi-final and will face Kyren Wilson in the tournament semi-final on Saturday evening. Maguire had won through to the evening session with a convincing 4-1 success over world number one Mark Selby.
Following a scrappy start to the Group 2 final, Allen got in first and took the opening frame with a clearance of 73.
A 26-minute long second also went the way of the world number 11, before a quickfire 77 moved him three ahead.
Maguire looked to respond before the interval with a run of 68, but Allen slowly ate away at the deficit and increased his lead to 4-0 after sinking a wonderful long black.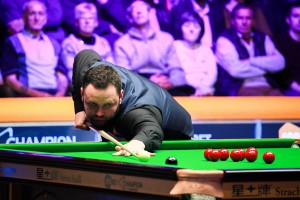 The Scot appeared rejuvenated in the second session and came flying out of the blocks with a 107 – his second century of the day – before a run of 50 closed the gap to just two frames.
Allen stopped the rot, though, as a run of 40 in the seventh moved him one away from victory.
The Belfast man had only won entry to this tournament with success in Bulgaria on Sunday and took full advantage of an opening in the eighth frame with a break of 104 to wrap up the win.
"I feel good, my game is in good shape and hopefully there is plenty more to come," said Allen.
"At 4-2 up, that frame was massive. Stephen was on a bit of a comeback, he had a fluke of his own in the previous frame and won the frame from it, and he was dominating that stage of the match. It was a massive turning point but I was due a bit of luck.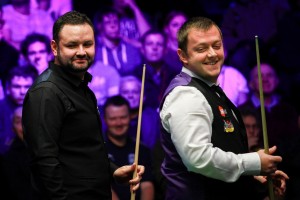 "It was fun but awkward – imagine playing a brother out there, that is what it was like. Stephen is a real good friend of mine but I am here to win the tournament and Stephen is an opponent at the end of the day.
"Kyren beat me in the semis in Shanghai, but I have to say I really struggled in that match and just gave it him really. I performed a lot better in the International Championship against him and managed to beat him 6-3.
"I know if I go out there and play my game then I will win, but the problem is you have to go out there and play your game. If I don't play to my best Kyren is more than capable of beating me again.
"My game is in good shape, going in the right direction but there is still plenty I can improve on. I will be spending some time with Terry Griffiths to iron some things out tomorrow afternoon to get ready for tomorrow night."
Allen had advanced to the Group Final after beating Hawkins 4-2, with a top break of 105 to secure his first win in three attempts at this event.
Maguire had looked in fine form as he produced the most emphatic performance of this year's 188BET Champion of Champions, comprehensively beating Selby 4-1 The Scot had top runs of 134 and 76 on his way to a very comfortable victory over the former World champion.
The 188BET Champion of Champions features World Snooker tournament winners from the previous 12 months, including World Champion Stuart Bingham, Masters Champion Shaun Murphy as well as the likes of Grand Prix champion Judd Trump, German Masters victor Mark Selby and Welsh Open winner John Higgins.
The tournament begins with four groups, each featuring a semi-final and final on the same day with the group winners progressing to the tournament semi-finals on Saturday 14 November. Sunday's final will be played over 19 frames with the winner taking home £100,000.
In addition to live coverage throughout in the UK, the 188BET Champion of Champions will also be aired on CCTV in China, Sky New Zealand, OSN throughout the Middle East, Nova in Czech and Slovakia and Setanta (Ireland).